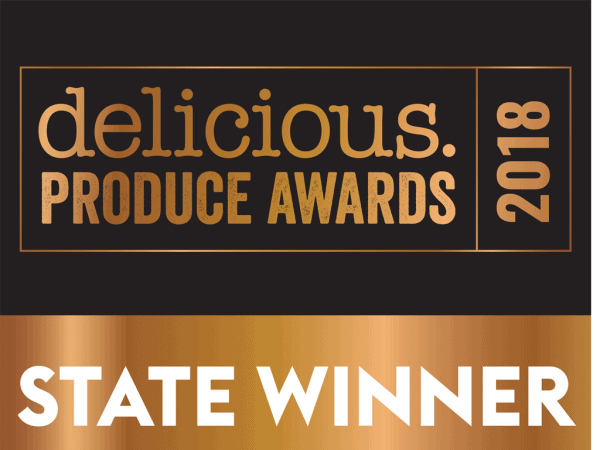 MEDIA RELEASE
FOR IMMEDIATE RELEASE
Tuesday 17 April 2018
2018 delicious. Produce Awards State Winners Announced
The full list of 2018 delicious. Produce Awards State Winners was revealed today with
120 producers receiving state awards across Dairy, Paddock, Sea and Earth categories.
The delicious. Produce Awards are a celebration of Australia's magnificent bounty of
ethical, sustainable and innovative ingredients, and the passionate, talented people
behind them, as nominated by the country's top chefs and restaurateurs.
Now in their thirteenth year, the delicious. Produce Awards aim to spotlight new and
native products, and consistently outstanding producers who are often the unsung
heroes behind every great chef and every great meal.
Today's release of the 2018 State Winners list is the result of the delicious. Produce
Awards State Judges meeting to taste their way through the crop of predominantly
primary produce nominees. The State Judges were tasked with awarding the best of
their state in the Dairy, Paddock, Sea and Earth categories to go through as State
Winners to the national judging phase.
delicious. editor-in-chief Kerrie McCallum said:
"Each year our State Judging panels sit around tables across the country and taste their
way through hundreds of nominations, debating the most worthy winners for their state.
In 2018 we continue to celebrate new, innovative, native and consistently outstanding
Australian ingredients grown, caught, sourced or produced with dedication, passion,
knowledge and regard for the environment. We have several new State Judges this year
and I'm grateful to them all for their time and passion for the delicious. Produce
Awards."
The delicious. Produce Awards State Judging Panel consists of 24 Australian food
leaders who dedicate their time to support the best Australian producers and drive
innovation in the industry. New to the State Judging panels for 2018: Danielle Alvarez
(NSW); Troy Rhoades-Brown (NSW); Darren Robertson (NSW); James Viles (NSW);
Analiese Gregory (TAS); Rodney Dunn (TAS); Cameron Matthews (QLD); Spencer Patrick
(QLD); Jo Barrett (VIC) and Jed Gerrard (WA).
NSW State Judge Darren Robertson said:
"I was really happy to join the NSW State Judging this year. I have long been an admirer
of the delicious. Produce Awards and the work they do in highlighting the important role
our producers play in making the Australian food industry the world leading industry it is.
We tasted some incredible cheeses, new vegies with so much flavour and amazing
seafood too."
The State Winners' produce is blind-tasted by a national panel of judges who decide the
overall category winners, revealed at a special event in Sydney on 13 August along with
additional awards judged by the delicious. Produce Awards critics' panel, including:
Producer of the Year; Best New Product; In the Bottle; Outstanding Region and Farmers'
Market; Outstanding Innovation and Outstanding Design; the Maggie Beer Award for
Outstanding Contribution to Australian Food; the Unearthed Next Gen Chef Award;
Outstanding Native Producer and Outstanding Artisan.
Following its successful launch in 2017, The Alla Wolf-Tasker Good Food
Matters delicious. Produce Awards Scholarship of $5000 will again be awarded in 2018.
The 2018 State Winners will be eligible to apply for the 2018 scholarship.
For more on the awards head to delicious.com.au/produceawards and stay up-to-date
by following @deliciousaus on Instagram and @deliciousAUS on Twitter using the
hashtag #produceawards.
– END
For more information, interview requests and imagery, please contact:
Kirrilly Sams Gabriella Somervaille